"How's that crop art coming along?"


This year's crop art diary.
Maggie Cheung 2005 crop art diary. Please note: It's large download.
Because I've finished this piece, and there will be no more daily updates, I've rearranged the crop art diary to run in non-blog style. So, let's start at the beginning ...
Thursday, July 27, 2006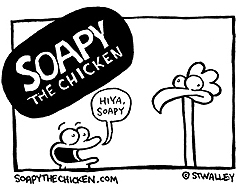 You see, a cartoonist pal, Steven Stwalley, does this online comic strip called Soapy the Chicken. And he encourages people to do interpretations of his character. Steve, you asked for it.
And, yes, now that you mention it, I am starting my seed art later this year than I did last year. Last year (Note: Big download) I started July 10.